With new legislation changing on the laws of mobile phones being used in vehicles, the mobile phone console is a complete solution. The phone is mounted on the console and with the addition of a 'hands free' device your concentration can be kept on the road.
B Plummer & Son currently manufacture two types of console for mobile phone placement in your vehicle.
The leather Communication Console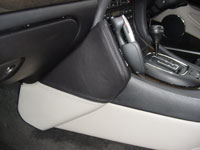 HAND STITCHED LEATHER COVERS


NO HOLES DRILLED


ORIGINAL EQUIPMENT LOOK


COMPLEMENT EXISTING INTERIOR


STYLISH


THE PRESTIGE OPTION


COLOUR COORDINATED TO INTERIOR

The New Push Fit Console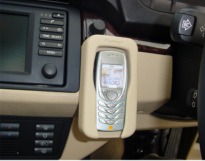 STYLISH


EASY TO INSTALL


NO NEED FOR BULKY CRADLES


IDEAL FOR BLUE TOOTH PHONES


BOTTOM OPENING FOR CHARGING WIRED HANDSETS


ROCKER BAR ACTION MAKES REMOVING THE PHONE EASY
Please feel free to look around this site. We have a number of different styles available and there are many manufacturers/models that we cater for. To view the consoles, use the manufacturer drop down lists in the top left of this page. There are designs for right and left hand drive vehicles. Also, by clicking on the menu control switch you will be able to choose from the main menu options for this site.
You can click here to view some additional information on the different types of console available.
With Product Quality, Excellent Customer Service, and Value For Money a priority, Plummer has to be your No.1 choice.
If you are not sure that the console will fit your make and model please contact us giving as many details as possible.
Email: sales@plummer.co.uk / Tel. +44 (0) 1473 830348